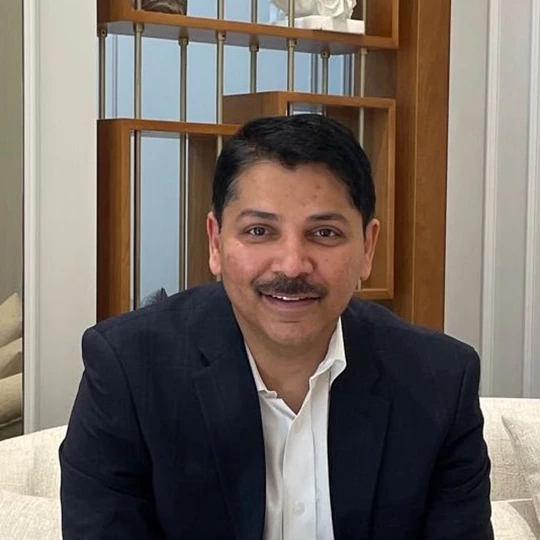 Mr. Vivek Nama
Masters of Research (MD Res) – St. George's University of London, Member of the Royal College of Obstetricians and Gynaecologist
With over 18 years of experience in gynaecology and gynaecological oncology, Mr Vivek Nama is one of the leading experts in his field.
Personal Profile
Dr. Vivek Nama specialises in gynaecological cancers and Laparoscopic surgery and has a wealth of experience in performing numerous laparoscopic operations. His expertise includes procedures such as hysterectomy (removal of the womb), myomectomy (removal of fibroids), ovarian cancer staging procedures including omental biopsy, and removal of appendix. Additionally, Dr. Nama is skilled in performing complex operations using both keyhole and traditional tummy incision approaches.
He also has extensive experience in removing tubes and ovaries for suspected cancer or high risk of ovarian cancer. Dr. Nama's proficiency in laparoscopic surgery makes him well-equipped to provide advanced surgical care to his patients. In addition, he is well-versed in cervical smear, vulval conditions, and hormone replacement therapy. If you have concerns about any gynaecological condition, Dr. Nama is well-equipped to provide professional assistance and comprehensive care.
Qualifications and Experience
Masters of Research (MD Res) – St. George's University of London
Member of the Royal College of Obstetricians and Gynaecologist
Sub-specialities: General O&G, Gynaecological Oncology, Gynaecology, Anti-Ageing Medicine
Advanced Skills Module in Menopause Care
RCOG and GMC accredited sub-speciality training in Gyn Oncology
British Society for Colposcopy and Cervical Pathology Certification for Colposcopy
Advanced Training Speciality Module in Gyn Oncology
Advanced Training Speciality Module in Labour ward
Clinical Research and NHS Work
Mr Nama is well published and known amongst his peers for his considerable research. He has been recognised in publications such as the Royal College of Obstetricians and Gynaecologists and the American Association of Cardiology. He has also been awarded several accolades for his research including; best poster presentation from the American Cardiology Association; and best oral presentation from the UK at the American Heart Association Scientific Conference.
Not only has Mr Vivek Nama achieved substantial success in his research, he continues to change the lives of Women balancing his time as a Consultant Gynaecologist and Lead Gynaecologist at Croyden University Hospital. Mr Nama has also been made an Honorary consultant at St George's Hospital and The Royal Marsden Hospital a testament to his dedication and understanding of his field.
Featured Treatments
Mr. Vivek Nama's treatments at The Door W4
Get in touch with Mr. Vivek Nama about any of his treatments or to book