Lift and Glow Facial
The Lift and Glow Facial from Refine SkinLab at The Door W4. Pure indulgence with instant results!
Facial Contouring and Radiance Boosting
Instantly lift and sculpt the face without injectables or machines while relaxing and unwinding in the magical hands of Victoria from Refine Skin Lab.
Advanced hands-on skin rejuvenation using a combination of techniques to lift and tone the facial muscles, neck and décolleté, whilst improving skin elasticity and improving fine lines and wrinkles.
The Lift and Glow Facial:
Tones and firms face
Lifts and smooth skin
Tightens and brightens complexion
LIFT
Firming and Tightening products are applied with a multitude of lifting techniques including:
Sculpting Massage
Face Yoga
Pressure Points
Gua Sha
Cryo Ice Therapy
GLOW
Skin resurfacing using AHAs and Enzymes to remove tired, dull, dry skin. Application of radiance, youth boosting products. Concerns with neck and décolleté? Comprehensive inclusion if these areas. Instantly revitalising skins appearance for a stunning GLOW both inside and out.
90 minutes: £195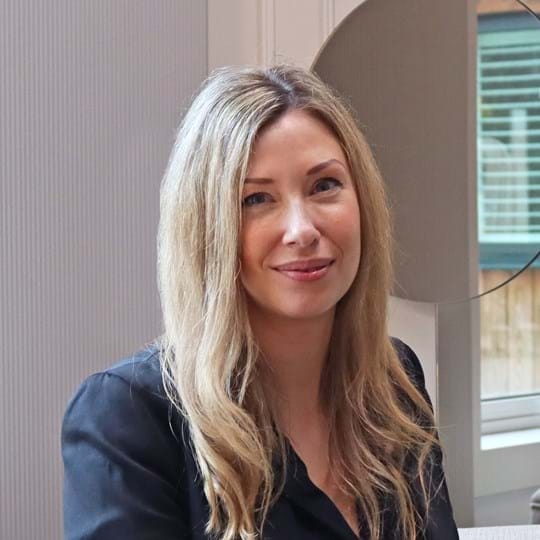 Victoria Voysey
With over 20 years of skincare and aesthetic industry experience, Victoria has worked with some of the best brands and Harley Street Doctors in the business in roles ranging from Salon Owner and Clinical Trainer to Head of Sales. Victoria is the founder and director of Refine SkinLab.
Victoria's Before and Afters
Victoria's treatments have completely transformed my skin! I came to her with dull, dry and tired skin with regular breakouts and her wonderful treatments have completely rehydrated and added life and plumpness back in. The Fire & Ice is a dreamy experience and always leaves my skin clear, smooth and refreshed.

— Cat F
I've just finished a course of the BeautifEYE treatments and it has completely transformed my eyes - massively reduced the dark circles and wrinkles. I look (and feel) 10 years younger! I always looking forward to my treatments with Victoria, it's relaxing and I always feel refreshed and de-stressed after seeing her.

— Cat F
Request a call back
Fill out the following contact form for one of our friendly professionals to call you back regarding booking this treatment. We look forward to hearing from you!
News & updates from The Door W4
Subscribe to The Door W4 mailing list to be the first to know about new features, treatments and practitioners as well as essential updates.