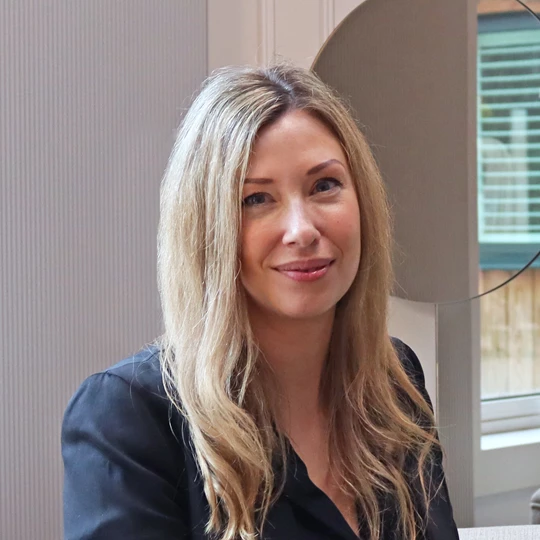 Victoria Voysey
CIDESCO, CIBTAC, VCTC, CAVA, NVQ, Advanced Specialist Courses
With over 20 years of skincare and aesthetic industry experience, Victoria has worked with some of the best brands and Harley Street Doctors in the business in roles ranging from Salon Owner and Clinical Trainer to Head of Sales. Victoria is the founder and director of Refine SkinLab.
Qualifications & Experience
CIDESCO - The highest qualification in Beauty Therapy and Aesthetics Internationally - Champneys Trained in 2000
CIBTAC - National qualification in Beauty Therapy, Aesthetics and Electrolysis - Champneys Trained in 2000
VCTC and NVQ 3 In Training and Assessment Trained in 2012
Advanced Chemical Peels - TCA Cosmo Forte and Mela Peel Forte Training with Dr Jean Luc Vigneron
Carboxytherapy - with Dr Daniel Sister
Chemical Peels - with Michael Q. Pugliese, LE
Collagen Stimulation Therapy - International Institute for Anti-ageing
Micro-Needling - International Institute for Anti-ageing and Innopen
Cool Peel - International Institute for Anti-ageing
Cryotherapy/Cryosurgery - Freezpen EU
Mesotherapy - Fillmed UK
Brand Training - iS Clinical, CODAGE, Circadia, Dermaceutic, Environ, Jane Iredale, Clarins, Guinot, Advanced Nutrition Programme, Aromatherapy Associates, Dermalogica, Decleor, Thalgo, Concerto
Before and Afters
From Advanced Aesthetician, Victoria Voysey
"In Consultation With... Victoria Voysey"
00:00:32 – How do I get perfect skin?
00:02:11 – What does Fire and Ice treat?
00:02:45 – Where do I start with older skin?
00:03:07 – Is there a 'holy grail' product?
00:04:03 – How does skin change after 40?
00:06:06 – What is the most common skin concern you see?
00:06:51 – What other treatments can I have?
00:07:32 – What is AgeJet?
00:10:30 – How many AgeJet treatments do I need?
00:12:08 – How should I prepare for AgeJet?
00:13:58 – What is Retinol?
00:16:19 – What makes The Door W4 unique?
Victoria's treatments have completely transformed my skin! I came to her with dull, dry and tired skin with regular breakouts and her wonderful treatments have completely rehydrated and added life and plumpness back in. The Fire & Ice is a dreamy experience and always leaves my skin clear, smooth and refreshed.

— Cat F
After just one Fire & Ice treatment I could visibly see and feel change and it's such a relaxing experience. Victoria is very bespoke in her approach and a joy to hang out with whilst she transforms my skin.

— Katy Eccles
I've just finished a course of the BeautifEYE treatments and it has completely transformed my eyes - massively reduced the dark circles and wrinkles. I look (and feel) 10 years younger! I always looking forward to my treatments with Victoria, it's relaxing and I always feel refreshed and de-stressed after seeing her.

— Cat F
Victoria is such an expert and can see what my skin needs. We recently did the Age Jet treatment, I trusted everything she did and felt in safe hands, and we are both thrilled with the results. I'm now a little bit addicted!

— Katy Eccles
Request a call back
Fill out the following contact form for one of our friendly professionals to call you back regarding booking this treatment. We look forward to hearing from you!