Restorative
Restorative Dental treatments include; White Fillings, Composite & Porcelain Veneers, Temporary Fillings, Inlays/Onlays, Crowns & Crown Repair
Composite filling restorations (inlays, onlays and crowns) are dental restorations usually made of porcelain, composite resin, gold or precious metals, used to restore your natural tooth structure. They are also used cosmetically to improve the smile by changing the colour of the teeth or reshaping disfigured, broken or worn teeth.
Dental Inlays are used to fill an area of your tooth that is bigger than a general dental filling.
Onlays are often referred to as partial crowns as they may cover one or more cusp of your tooth. 
A Crown is a tooth-shaped cap that is placed over the tooth to replace a large missing part.
We can replace old fillings or restoration work, repair existing ones or rebuild the tooth.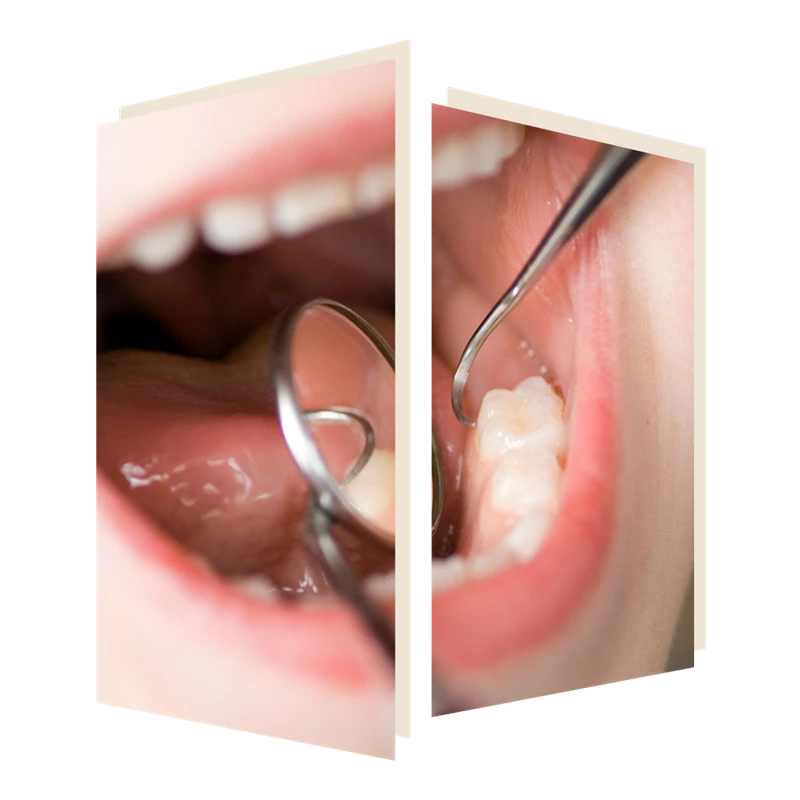 White Filling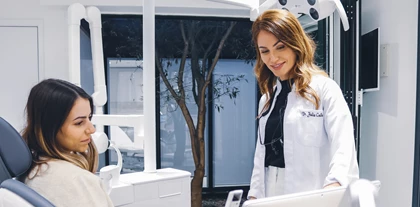 White composite restoration (white filling) is a tooth coloured resin material that bonds to the tooth to restore, reshape or cosmetically improve carious, broken or disfigured teeth.
Composite Veneers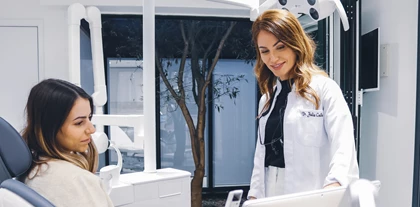 Veneers are thin, custom-made shells of tooth-coloured materials to enhance or change the appearance of your teeth. Composite Veneers do not require tooth preparation compared to porcelain.
Temporary Filling
Available to treat by Dr Julia Coelho at The Door W4. Contact us to discuss your dental concerns and book. 020 8742 8822.
Inlay/Onlay - Porcelain or Gold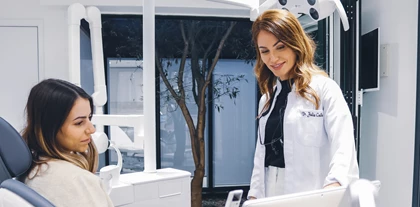 Dental inlays/onlays are dental restorations usually made of porcelain, composite resin, gold or precious metals, used to restore your natural tooth structure.
Porcelain Veneers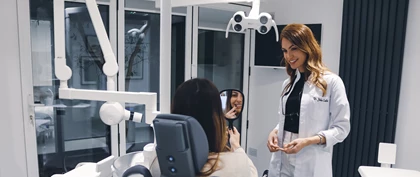 Dental veneers can cover up chips, cracks and discolouration. They look and feel natural, are low maintenance and can increase confidence in your smile.
Crown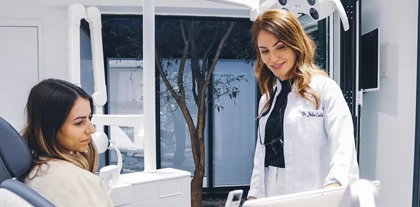 A dental crown or cap is a type of dental restoration that completely covers a weak or damaged tooth or dental implant. They can be made from porcelain, emax, zirconia, gold or metal.
Crown Repair
Available with Dr Julia Coelho at The Door W4. Contact us to discuss your concerns or book in your dental treatment. 020 8742 8822 enquiries@thedoorw4.co.uk
Our Treatment Philosophy
Focused on preventative oral health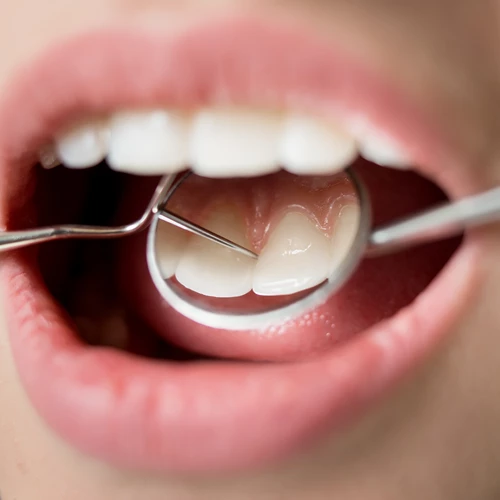 Restore
Where possible, your smile can be your own, restoring and saving teeth and minimising procedure time and cost.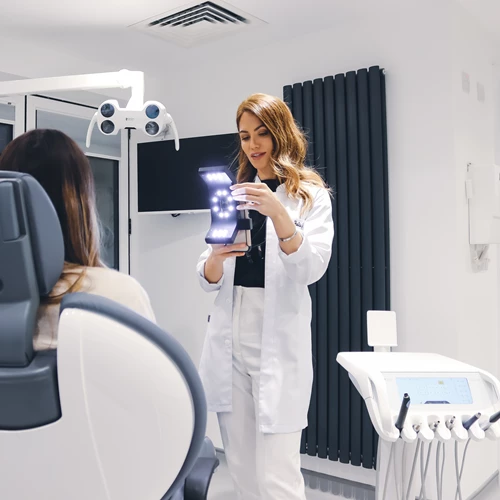 Prevent
Our whole purpose is to stop you needing more treatment, with advanced diagnostic 3D modelling, X-rays, Digital Scans and more.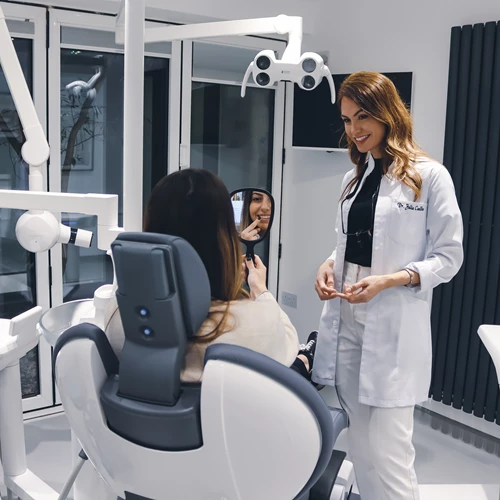 Maintain
This preventative, detailed approach will help us use your thorough records to catch problems before they arise, and minimise your risk of problems down the line.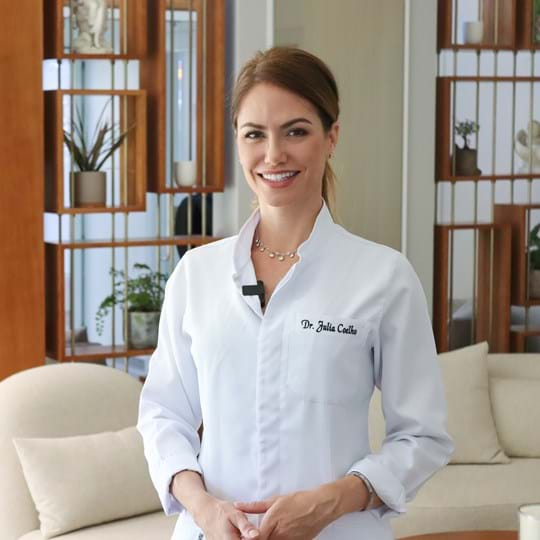 Dr. Julia Coelho
Dr Julia Coelho is our resident Aesthetic Medicine Practitioner that specialises in the latest non-surgical anti-ageing treatments and Cosmetic Dentistry. She is a multi Award Winner and takes great pride in caring for her patients. Dr Coelho tailors her procedures for Cosmetic Dentistry as well as head and neck rejuvenation to meet her client's individual needs and personal circumstances.
Before & Afters
Dentistry with Dr Julia Coelho
Dr Julia's Approach to Composite Veneers
A Patient-Centered Philosophy in Smile Design
We understand the significance of a well-designed smile. Our approach, led by Dr. Julia Coelho, is firmly patient-led and personal to each individual.
The key to a successful smile design lies in understanding and integrating patient preferences to ensure individualised care and alignment with facial features. Designing a smile extends beyond just the teeth.
When it comes to veneers, there are two primary options.
PORCELAIN VENEERS: Typically recommended for those who "already have a lot of fillings or if you want to achieve a certain smile."
COMPOSITE VENEERS: A conservative approach, these veneers are often associated with minimal tooth adjustment.
At The Door W4 Dental Studio, our goal, in alignment with Dr. Julia Coelho's philosophy, is to make your dream smile a reality. We remain steadfast in our commitment to delivering treatments that are both effective and tailored to individual needs, delivered in a comfortable and luxurious environment, with cutting-edge treatments and equipment.
The best dentist I have ever had. Thank you.

— Doug Parks
Very highly recommended, the best dentist our family has ever had. We Love you Dr Julia.

— Delfina Rodrigues
Excellent Competent Professional. I highly recommend her services!

— Dr Gisele Lopes
I am so lucky to have found such a great professional and someone I can trust.

— Leonia Castro
I have been a client of Julia's for over 5 years. She is amazing! I was unsure about how/what treatments to have but she talked me through the best options for me. Giving me honest, realistic advice at all times. Thank you so much!

— Lyndsay Bradshaw
Dr Julia is fantastic at her job, she is professional, experienced and the best at what she does. I always feel confident in her hands and she is beautiful both inside and out. Thank you.

— Melanie Getino
Filters are great but great skin is better. I believe in this industry, the only source of knowledge is experience which is why Dr Julia is the best and I place my trust in her.

— Kirsty Mead
Dr Julia Coelho is not only one of the most beautiful people you will meet, inside and out but she is also the very best at what she does. I am so grateful and thrilled about the way my skin has recovered from my horrible acne. You will be in the hands or a true professional who cares about each individual client.

— Sienna Myson
I have known Julia for several years and over this time she has changed a smile with the most natural looking amazing veneers for my front teeth. Julia has also treated me with Botox and Fillers which I am so pleased with, it looks so natural and just gives me so much confidence. I can't recommend her highly enough.

— Rachael Johnson
Fantastic service, excellent treatment, amazing Dr Julia Coelho, can't praise her enough!

— Sotirios Foutsizoglou
Client Testimonial
Lia and AK from @PropertyCouple
Watch Lia and AK's journey at The Door W4 Dental Studio with Dr Julia as they prep their perfect smiles for their wedding day!
"After breaking his front teeth over 16 years ago, AK finally decided to do something about his teeth ahead of our recent wedding. We booked in with Dr Julia Coelho at The Door W4 for our clean and whilst we were there she suggested that he considered composite bonding for the front two teeth to correct the shape, this combined with the airflow clean meant that our wedding photos were absolutely perfect."
Ramon Silva's Smile Transformation
at The Door W4 Dental Studio with Dr Julia Coelho
Meet Ramon Silva, a rugby player for the Wigan Warriors. Hear about how his brand new smile, expertly crafted by Dr. Julia Coelho at The Door W4 Dental Studio, gave him renewed confidence and "changed his world"
Book Your Visit
Our priority is your in-clinic comfort and long-term oral health. From our hyper-ergonomic massage dental chair, to our industry leading intra-oral 3D scanner, we have taken exceptional care to improve the Dentistry experience at every stage.
Get in touch with us for any enquiries by filling out our form below.
News & updates from The Door W4
Subscribe to The Door W4 mailing list to be the first to know about new features, treatments and practitioners as well as essential updates.