Cervical Cancer Screening
This Smear test is the gold standard for detecting Chlamydia, cervical cancer and Human Papillomavirus (HPV) a group of viruses that do not cause any problems in most people, but some types can cause genital warts or cancer. These conditions can present no symptoms for many years but if not identified and treated can cause fertility issues and in some cases be life threatening.
Prices
Includes initial appointment, all tests and a 1 hour follow up to run through all findings, with a clear medical road map plan.
Cervical Cancer + HPV + Chlamydia Screening: £220
Book Now
Get in touch to book an appointment with Dr Houda or to learn more.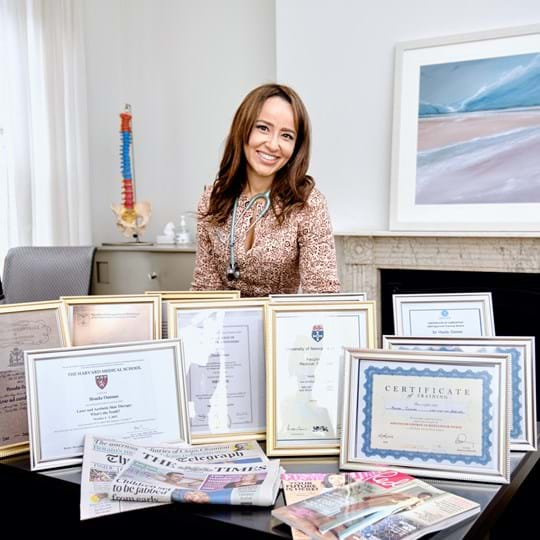 Dr. Houda Ounnas
Dr Houda Ounnas is a Psychotherapy trained GP that runs a 360 preventative clinic integrating physical and mental health. She has over 9 years experience as a GP and 15 years as a qualified doctor.
Meeting Dr Ounnas was a true blessing to me. The time, patience, empathy and knowledge she invests in her patients is exceptional. Highly recommend!

— .
Dr Ounnas is a very empathetic doctor who takes the time to listen to your problems and find a reassuring way of communicating the information to you. She as a woman has a different understanding of women's feelings and problems. It has been really comforting to be able to discuss my problems with her.

— .
Dr Houda takes her time and explains everything in detail and really considers and supports your well being. I wish I could have her as a regular GP.

— .
Breast Cancer Awareness
Dr Houda Ounnas says "all women should learn how to examine their breasts!"
Dr Houda outlines why it is so important for women to examine their breasts and especially - when!
This should be done on the same day every month at a certain time in your menstrual cycle. Dr Houda offers an array of Women's Health checks and assessments for overall wellbeing.
Request more information on this treatment by filling out this Contact Form so one of our friendly professionals can get in touch to assist.