Bio NutriNECK
by Fillmed - aesthetic medicine specialists and experts in anti-ageing. This treatment includes a light Chemical Peel followed by Mesotherapy (microinjections) to plump and tighten your skin for a natural glow. A course of 3 treatments is recommended.
Fight the ageing of the neck, reduce lines and rejuvenate. In an era of mobile phones, the age in which we see lines forming around the neck area are reducing. Whether for prevention or in a bid to cure, we have the answer.
If your skin goal is GLOW, this is the treatment for you. MHA10 serum is a high quality Hyaluronic acid product designed to hydrate and plump the skin adding volume.
How does it work?
The treatment includes a Chemical Peel followed by micro injections using Nano Soft with MHA10 which is 3 crystal silicone needles, designed to deliver MHA10 one of our skin heros, to the perfect depth, creating a perfect skin eco system. Effectively targeting:
Lines
Wrinkles
Ageing
Skin elasticity
Loss of volume
Skin quality
You will experience a warm, tingling feeling whilst the peel is on which is comfortable and not painful. The micro injections are quick but can be a little uncomfortable in certain places but the practitioner will make you feel as comfortable as possible.
After the treatment your skin may look a little flushed for 4‐6 hours. The eye area itself can show some redness and small papules at the injection sites as possible for up to 48 hours but usually disappear after 24 hours.
We recommend that you don't wear make up for 24 hours and 48 hours on the neck.
We recommend not wearing perfume for 72 hours.
You will be given a soothing cream to apply to the neck area following the treatment.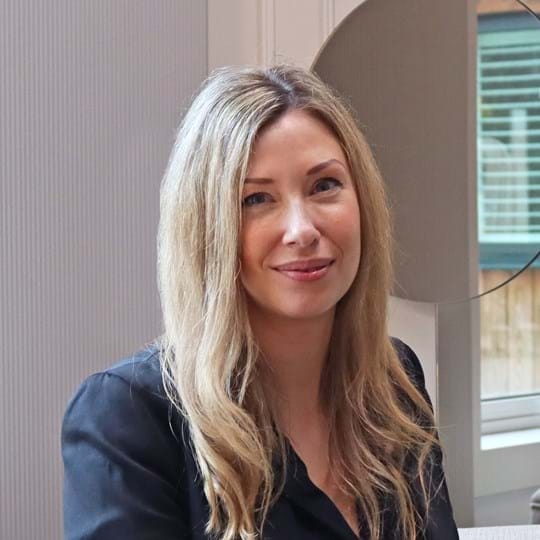 Victoria Voysey
With over 20 years of skincare and aesthetic industry experience, Victoria has worked with some of the best brands and Harley Street Doctors in the business in roles ranging from Salon Owner and Clinical Trainer to Head of Sales. Victoria is the founder and director of Refine SkinLab.
Book this treatment
Contact us to book your Bio NutriNECK treatment or a free consultation with Advanced Aesthetic practitioner, Victoria Voysey.