ClearLift™
ClearLift™ is a state of the art, scientifically proven multifunctional Q-switched non-ablative laser technology that is designed to stimulate the body's natural collagen levels. Perfect to treat all your ageing concerns with no pain and no downtime!
This revolutionary laser treatment is a non-ablative alternative to skin-resurfacing. Working below the skins surface, delivering phenomenal results with no downtime, no pain, and no injury to the skin. The treatment is so gentle that it can treat even the most delicate of areas including the neck, décolletage, around the eyes and the lip area.
Clearlift uses acoustic sound waves to create tiny injuries to the epidermis and dermis (the top and second layers of the skin) causing the skin to naturally repair itself. This in turn stimulates the production of new collagen, dramatically reducing the appearance of fine line, wrinkles, and loose sagging skin.
Clearlift is also very effective in treating skin issues associated with pigmentation such as sun damage, sun spots and melasma, which with other laser technologies can be hard to treat due to heat stimulating the melasma. Clearlift uses soundwaves to break down the pigment without using any heat, scientifically proven to treat melasma with long term lasting results.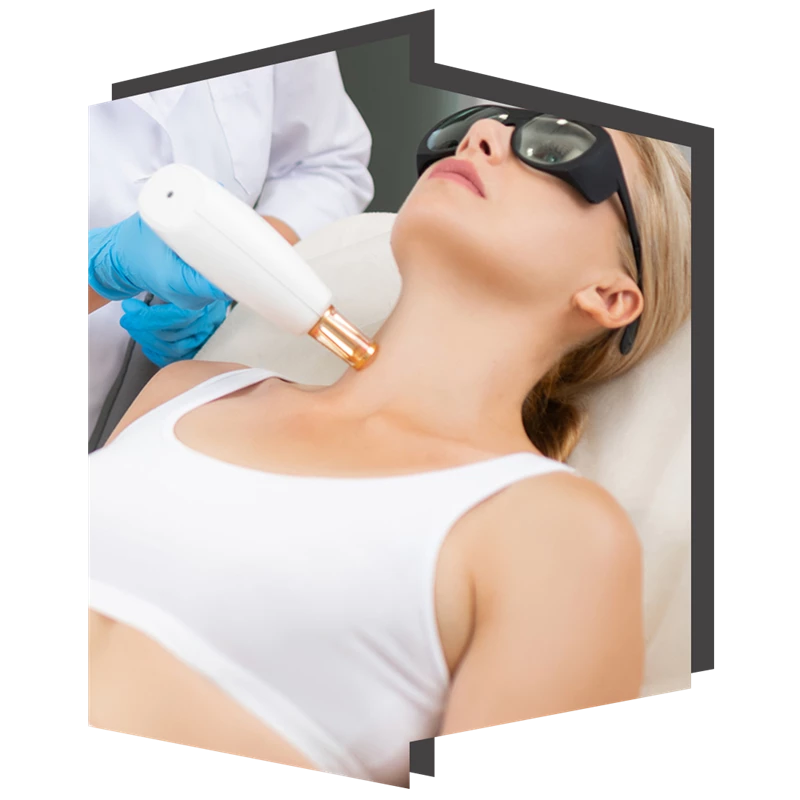 Clearlift treats or can help with a variety of different concerns such as:
Fine Lines & Wrinkles
Photo-damage / Sun-damage
Uneven skin tone
Skin Laxity
Vascular issues on the face (such as Rosacea)
Pore size
Pigmentation and Melasma
Dark scars
Crow's feet
Smokers lines around the mouth
Dark circles
Breakdown of unwanted facial filler
Clearlift causes tiny microinjuries to the Epidermis (the top layer of skin) and Dermis (the second layer of skin containing glands, follicles and collagen fibres amongst other things). These tiny micro injuries caused by the fractionated laser will cause the skin to repair itself. This action of repairing is what stimulates new collagen. New collagen will improve the look of wrinkles, fine lines, crow's feet, pore size and help to lift and tighten the skin.
Clearlift is effective at treating pigmentation issues such as sun damage and Melasma, which can be a hard concern to treat with other lasers as Melasma can be stimulated by heat. Clearlift uses acoustic soundwaves, which break down pigment without using heat and stimulating the condition further. Q- switched 1064nm Clearlift has been proven to be effective at treating Melasma in the long term.
It is a very gentle, but very effective treatment. You will feel a slight snapping on the skin as the laser is applied and skin is treated but this is not painful.
There are no known side effects and Clearlift is a very safe treatment to have if you are suitable for the treatment. You will be invited to attend a consultation where your therapist will make sure you are a suitable candidate.
You may have a slight erythema (redness of the skin) if you are especially sensitive but this is not very common.
We offer individual treatments but for best results we recommend a course of 6 treatments spaced 4 weeks apart.
Clearlift can deliver good results after your first session but it is especially effective in the long term, making it a beneficial treatment in the prevention of ageing, as well as for targeting specific concerns.
It will continue working long after your course has finished and best results can be seen after 2 months.
You will first attend a consultation where you will fill out the necessary forms and you're practitioner will answer any questions you may have about the treatment. A patch test will be performed so you can feel what the treatment is like and your practitioner can also see whether you are suitable for treatment and what settings will give you the best result.
After your consultation you will need to wait 24 – 48 hours and then you can have your first treatment.
During your consultation your laser therapist will let you know how long your treatment will be. If you have a particular concern, such as crow's feet, your practitioner may spend a bit more time treating this area. The treatment is very flexible, so we can cater to your needs.
During the first treatment, the area will be cleaned thoroughly, and you will be given protective goggles to wear. Clearlift treatment can last anywhere from 10 minutes to 1 hour as we have significant control over the areas we can treat.
At the end of the treatment, your practitioner may apply Aloe Vera or other products suitable to your skin type such as a hydrating serum or moisturiser. We will always apply an SPF 50.
As Clearlift is a gentle treatment there is not much that you need to do after your treatment. You can cleanse your face as normal, avoid exfoliation for the first 24 hours to avoid overstimulating the area, stay out of direct sun and wear an SPF.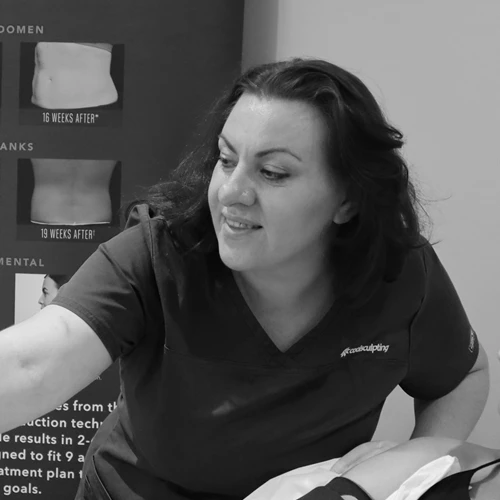 Zorica Walsh
Zorica has been a qualified beauty therapist for over 20 years and has a real passion for the industry. Her years of expertise brings a refreshing fountain of knowledge to The Door and will always provide reassurance and wisdom to her clients. Zorica takes real pride in helping clients achieve desired results. Having personally had the treatment herself she is more than happy to discuss her results with you.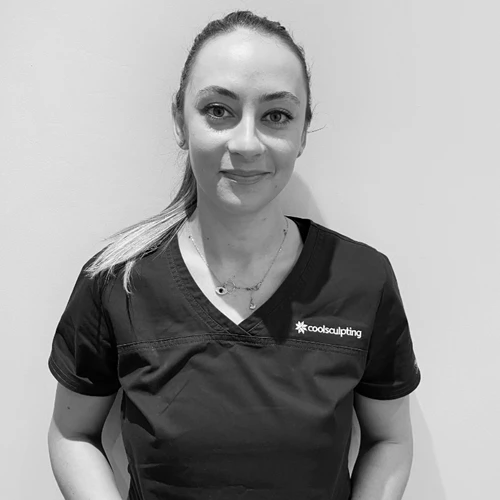 Corina Sava
Corina is a highly experienced, full-time Laser and Coolsculpting Specialist at The Door W4 and has worked in the laser industry for many years, becoming an expert in this field. Corina's main priorities are to provide an excellent service for all her clients, taking them on a journey to achieve the very best results. She is dedicated in continuing her development in the industry by taking extra courses and continuing with further education in the medical field.
Prices
Full Face and Neck
Single Treatment £230 | Course of 6 £1200
Full Face, Neck and Décolleté
Single Treatment £350 | Course of 6 £1800
Clearlift with NIR Full Face
Single Treatment £280 | Course of 6 £1500
Book a free consultation
Fill out our contact form so we can get in touch with any enquiries you may have. Before starting any laser treatment, a free consultation is needed.